Congratulations! You're engaged and ready to celebrate your big news with family and friends. But where do you host the perfect engagement party and what specifically should you look for when choosing? It can be hard to decide, but don't worry—we've got some creative ideas for unique and fun engagement party venues that are sure to make your celebration one to remember.
What is an Engagement Party Venue, and do you Really Need One?
When you get engaged, of course it is an exciting moment that you want to share with everyone. And let's face it, having a party to celebrate isn't such a bad idea. But where should you have this part?
An engagement party venue is the location you choose to host your celebration. It's also a way to kick off the engagement of the couple. They come in all shapes and sizes, from private homes to large function halls—you just have to decide what works best for you and your guests. While it's not necessary to have a specific venue for an engagement party, choosing one can help make the event special and memorable.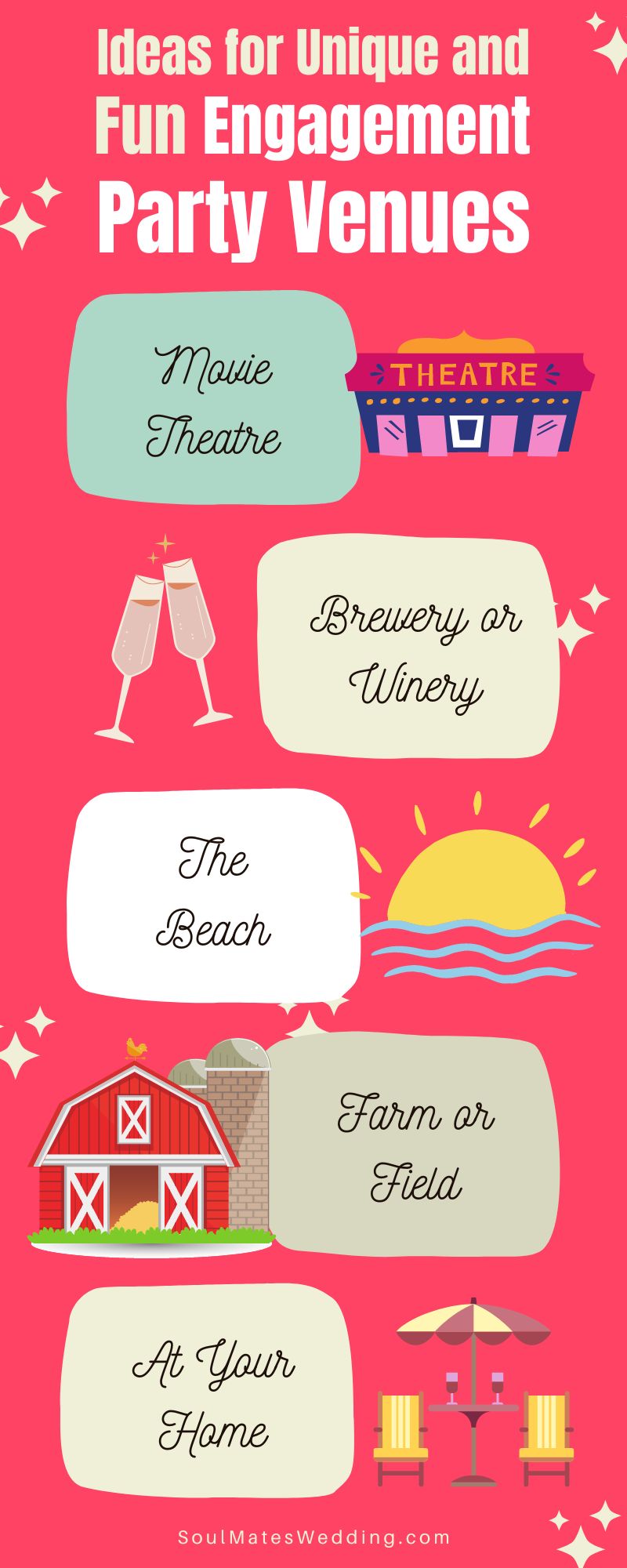 Why Couples Should Consider a Unique Venue for an Engagement Party
A unique engagement party venue can help make your event stand out from the rest. An interesting location will give your guests something to talk about and provide a great backdrop for photos. It also makes for a more memorable experience overall—because really, who doesn't like going somewhere special?
From unconventional spaces to traditional venues with a twist, finding creative and unique engagement party venue to have your party is a great way to kick off one of the most memorable moments in your life and your engagement party guests.
Here are Some Creative Venue Ideas for Your Engagement Party
Movie Theatre – Turn the classic engagement party into a movie night and host it at an independent theater. It makes for a fun and unique event that your guests will never forget. AMC offers renting an entire theatre for your event. Choose a romantic film like "The Notebook" or the first movie you watched together. This can be part of an ongoing evening as well with the movie only being part of the event.
A Field or Farm – Get in touch with nature and host your celebration at a local field or farm. There are some problems that you should have a contingency for when hosting a outdoor engagement party at a location such as this and the biggest is the weather. Standing in a field when it's raining isn't really the way you want to announce your engagement. It can be a beautiful space but things can go bad very quickly. 
Museum – Are you a history buff? Get inspired by art and host your engagement party at a museum. Many museums offer packages for birthday parties or a wedding party and some may even have dedicated guides that are used at the party. This is great for the culture-loving couple who wants to add a bit of sophistication to their event.
Brewery or Winery – Enjoy a glass of bubbly or IPA and celebrate your engagement at a local brewery or winery. This is perfect for couples who appreciate craft beer, wine and great conversation with friends. There are many local breweries that are starting up in the past decade and many of them offer full menu choices, party rentals, and even catering for events.
Beach – Nothing beats a beach engagement party on a beautiful summer day. You can make it as formal (or casual) as you'd like—your guests will be sure to appreciate the ocean views and fresh sea air. But just like having an engagement party at a farm or field, weather will play a huge role in whether it is a good idea or not.
Since engagement parties are typically not planning too far in advance, you should be able to determine what weather you will be dealing with. Having a backup plan will definitely be a good idea though.
Local Park or Garden – Show your green side and host an eco-friendly engagement party at a local park. Whether you want to plan a picnic or rent out some outdoor games, a park is always a great venue for an event.
Pet Friendly Party – Want to include your furry friends? Have a pet friendly engagement party where guests can bring their pets. Even if you have the engagement party at your home which can certainly be a cozy space, you can have guests bring their pets. 
No matter where you decide to have your engagement party, be sure to have a good time and create lasting memories with your loved ones. Enjoy this special time of your life and make it unique with creative spaces for your engagement party. From an outdoor patio to an all-out dance party at your local club, choosing an engagement party venue should reflect your creativity and style. 
Hosting the Engagement Party at Home on the Patio or an Outdoor Space at your House
If you are looking for a more intimate affair before your actual wedding, hosting your engagement party at home could be the perfect venue option. This can allow you to save on rental fees and can provide a cozy atmosphere that will help create an enjoyable experience for you and your guests. It also gives you more control over how the evening is going to run, what music is playing, and who is attending if you were not planning on renting an entire venue at other locations.
You can also make the event a little more special by adding in some unique touches – think string lights, a photo booth backdrop, personalized decor, or even interactive games for your pre-wedding party. You can also consider hiring an event planner to help you out with some of the planning. This will ensure that your engagement party goes off without a hitch and that you can enjoy it as much as your guests.
Don't forget to plan for food and drinks – even if you are hosting the event at home, make sure there is something for everyone! Consider ordering catering, having table food, setting up a full bar, or having some DIY snacks ready for your guests.
Local Theme Parks or Waterfront Locations
Engagement parties don't have to be stuffy dinners or sitting around drinking wine. Are you looking for a fun, exciting venue for your engagement party? Consider the local theme parks or waterfront locations such as an amusement parks, an aquarium, or the beach. These can be great venues to have a unique and memorable celebration with your closest friends and family.
Renting Out a Local Private Event Space or Hall
If you would like to have a large engagement party with lots of guests, then renting out a local event space or hall may be the best option. There are so many different types of venues that can accommodate any theme or style – there are classic banquet halls, trendy restaurants and bars, art galleries, and more.
Hiring a Professional Events Planner to Secure Unique Locations
If you are looking for something truly unique and special, then consider hiring a professional events planner to help secure the perfect venue. They will be able to work with you to find the ideal location and provide assistance with setting up the event space, securing catering, providing entertainment, and more. This option can really help make your engagement party stand out. Most wedding planners will also have places in mind and may even get a discount for some locations.
Considerations When Choosing an Engagement Party Venue
No matter what type of venue you choose, make sure to keep your budget in mind. Some venues may require additional fees for services or will have a minimum spend requirement.
It is also important to consider the time of year and season when choosing a venue – this will help you determine what weather you will be dealing with and how many guests you can fit in the space. Even so, it's good to have a backup plan in place if your chosen venue can be affected by weather events.
Lastly, make sure to research the venue and read through their contracts before making a commitment.
Budget Restrictions
If you are on a tight budget, don't worry! There are still plenty of options available that will fit your needs and requirements. Look for venues with lower rental fees or ones that offer discounts or special packages. You can also consider hosting the event at home, which can be a great way to save money while still creating a unique and memorable event.
Another option is to look for venues that offer all-inclusive packages – these can include catering, decorations, music, and more without having to worry about additional costs.
No matter what type of venue you choose for your engagement party, make sure it reflects the style and personalities of you and your fiancée. This will ensure a memorable and special event that your guests will never forget!
Location & Availability
When selecting a venue for your engagement party, it's important to consider both the location and availability. Look for venues that are easily accessible by public transportation or in areas where guests can easily find parking.
Check to make sure the venue has available dates when you want the event to occur – many places book up quickly so make sure to plan ahead. Also, depending on the type of venue you choose, make sure it has the necessary amenities such as bathrooms, seating, sound systems, etc.
Distance from Invited Guests' Homes and/or Hotels
Consider the distance of your chosen venue from where invited guests will be traveling from. If you have family and friends coming in from out of town, you should look for a venue that is centrally located near hotels or other accommodations to make it easy for them to attend. You can also consider offering shuttle services if needed.
Conclusion
Choosing the right venue for your engagement party is an important step in hosting a successful event. Consider all of the factors mentioned above and find the perfect location that will make your event one to remember!
Good luck, and congratulations on your upcoming wedding!
Frequently Asked Questions
Where are engagement parties usually held?
Engagement parties can be held at a variety of different places, including private homes, restaurants and hotels. Some people also choose to host their engagement party at a local park or outdoor venue. Ultimately, the best place to host an engagement party is up to you and depends on your budget, style, and size of the event.
Who is supposed to throw an engagement party?
Traditionally, the parents of the couple are expected to host and pay for the engagement party. However, this is not always the case. Depending on the family dynamics and budget, anyone close to the couple can host an engagement party.
Who plans and pays for engagement party?
The person or people who host the engagement party are responsible for planning and paying for it. This is usually the parents of the couple, but it could also be a close friend or family member.
How much should an engagement party cost?
The cost of an engagement party can vary greatly depending on the size and type of event. Generally speaking, most people spend about one to two percent of their total wedding budget on the engagement party. Additionally, many venues offer special packages or discounts that can help to keep costs lower while still providing a memorable event. Ultimately, the cost of an engagement party should be based on your personal budget and preferences.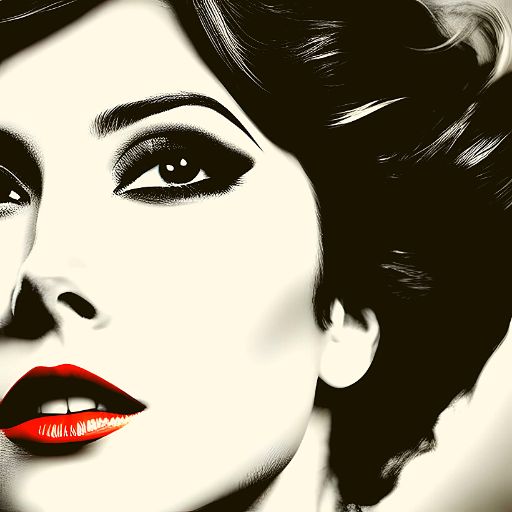 Cynthia Pate is a passionate writer and wedding enthusiast, dedicated to helping couples create their dream celebrations. With years of experience in the wedding industry, Cynthia has developed a deep understanding of the latest trends, timeless traditions, and unique ideas that make every wedding special. Her articles cover a wide range of topics, from planning and decor to etiquette and fashion, always with the goal of providing practical advice and inspiring ideas. When she's not writing about all things wedding-related, Cynthia enjoys exploring new destinations, trying out local cuisines, and spending time with her family and friends.