Choosing the right location for a proposal is paramount as it sets the stage for one of the most memorable moments of your life. The place can add a layer of personal significance to your proposal, making it more meaningful and memorable for you and your partner.
It's not just about the beauty or popularity of the place but also about the ambiance, the emotions it evokes, and the story that it will help you tell. A well-chosen location can perfectly encapsulate your love story, symbolize your shared memories, and create the perfect backdrop for when you pop the question.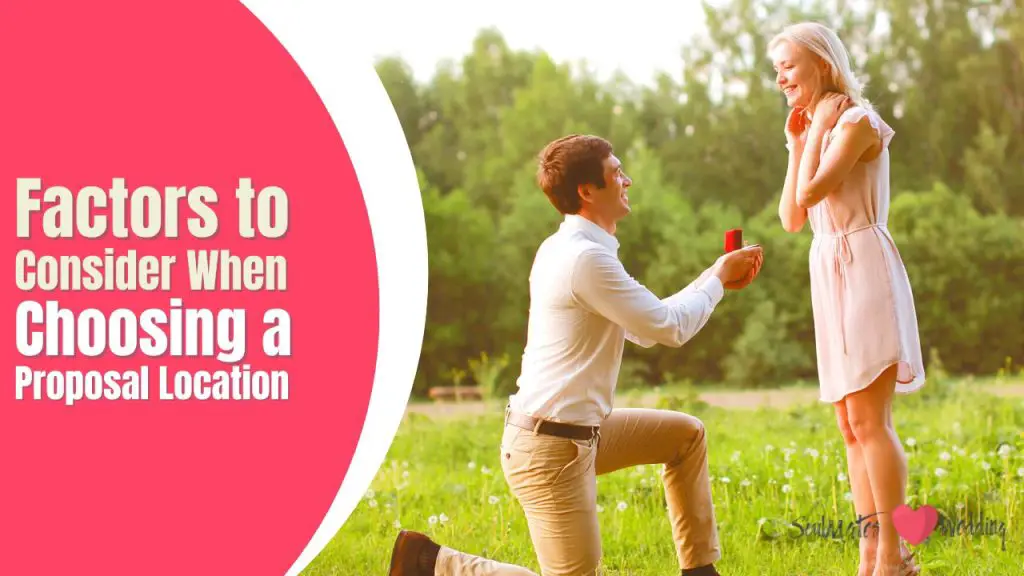 Factors to Consider When Choosing a Proposal Location
When choosing a proposal location, there are several key factors to consider. These include the site's ambiance, the convenience of access, and the associated cost. First and foremost, you should consider the atmosphere and feel of the place. It should be somewhere unique to you and your partner, where you have shared meaningful experiences or developed fond memories.
Next, consider the convenience of access and the cost associated with the place. If you opt for a remote location, ensure it is easily accessible by air or land to minimize transportation costs. Additionally, factor this into your budget if you want to rent a private space for your proposal.
Personal significance
The personal significance of a proposal location can elevate the experience from simply memorable to genuinely unforgettable. The area could be somewhere you both hold dear – perhaps it's the park where you had your first date, the city where you first said 'I love you,' or even a place you've both dreamed of visiting. Choosing such a place adds a layer of intimacy and sentimentality to the proposal. It shows your partner that you cherish the memories you've created together and made this moment as meaningful as possible. A location with personal significance tells your story, making the proposal uniquely yours.
Partner's preferences
The best proposals are those that consider your partner's wishes and preferences. Your partner's interests should be a priority when selecting a location for the proposal. Consider what they like – is it wide-open spaces, lush forests, seaside views, or something else?
Remember also to pay attention to small details; if your partner loves the beach, consider whether they'd prefer a sunrise or a sunset proposal. If your partner is an avid traveler, consider taking them to a place that would be particularly meaningful to them or surprise them with a destination they've always wanted to visit.
Weather and Timing
Ideally, pick a time of year when it's most pleasant in your chosen location. Consider the local climate and decide on a day when it's likely to be sunny and beautiful. Pick a time of year when there's an incredibly stunning backdrop or natural phenomenon to enjoy together – think snow-capped mountains, blooming flowers, or starry night skies.
It's also essential to plan and ensure that your proposal will be able to continue; if you plan on proposing at a popular tourist destination, consider doing it off-peak or arriving early in the morning.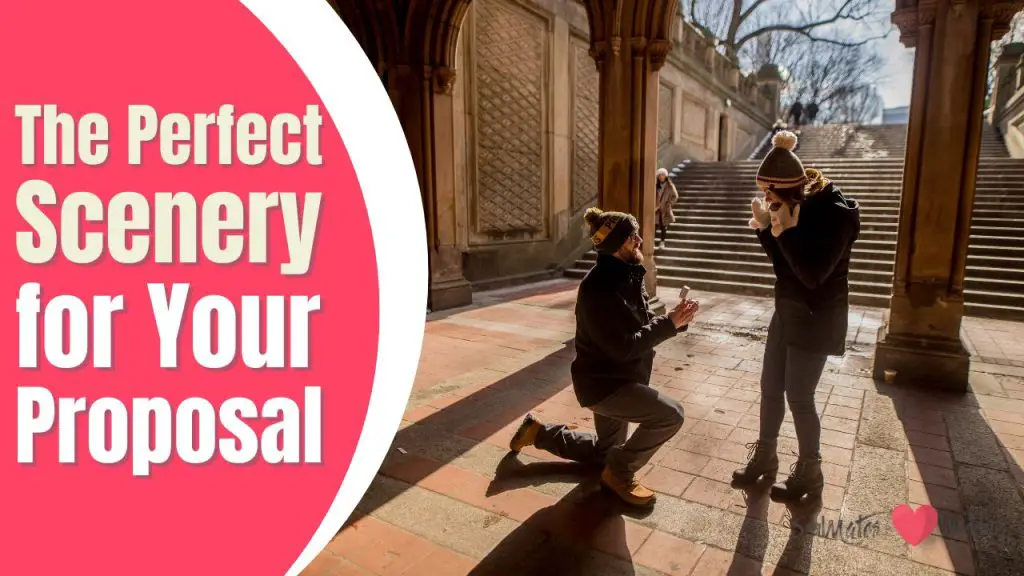 The Perfect Scenery for Your Proposal
The perfect proposal location will depend entirely on you and your partner – no one-size-fits-all answer exists. However, if you need inspiration, here are some of our favorite spots for proposals:
A beach at sunset
A forest glen with a waterfall
The top of a mountain at sunrise
An old castle lit up in the evening
A romantic garden hideaway
On a boat during a romantic cruise
An exotic beach hideaway on a secluded island
Under the Northern Lights in an arctic wonderland
On a hot air balloon ride over rolling hills and valleys
No matter where you propose, remember that the thoughtfulness of your gesture and your expression of love will make it memorable. We wish you luck with choosing the perfect scenery for your proposal!
Remember to capture the moment with photos or videos, no matter what special place you choose. A tangible memory of this remarkable experience will allow you to savor it for years. Remember to document the occasion in other ways, too – writing down the day's events, creating a scrapbook of mementos, or even writing a song about it! Whatever you choose to do to commemorate the special day, we hope the moment is as magical and memorable as possible. Happy proposing!
Top Proposal Locations Around the Globe
Proposals don't have to be just regional – if you're feeling adventurous, you can take your partner on an unforgettable trip. Here are some of the best places for a proposal around the globe:
Paris: Take your special someone to the city of love and pop the question next to the Eiffel Tower.
Athens: Surround yourself with ancient history and engage with incredible Acropolis views.
New York City: Propose among world-famous skyscrapers, iconic bridges, and magnificent Central Park.
Venice: Get down on one knee in a romantic gondola ride or at dusk overlooking St. Mark's Square.
Santorini: Go for a romantic sunset proposal with the stunning caldera and twinkling lights of Oia as your backdrop.
Prague: Ask the big question at one of Prague's iconic sites, such as Charles Bridge or Prague Castle.
Bali: Say 'yes' among lush gardens, white sand beaches, and breathtaking ocean views.
Sydney: Enjoy the stunning harbor and iconic Opera House as your backdrop.
These are just a few beautiful places to pop the question. No matter what special place you pick, we wish you an unforgettable experience!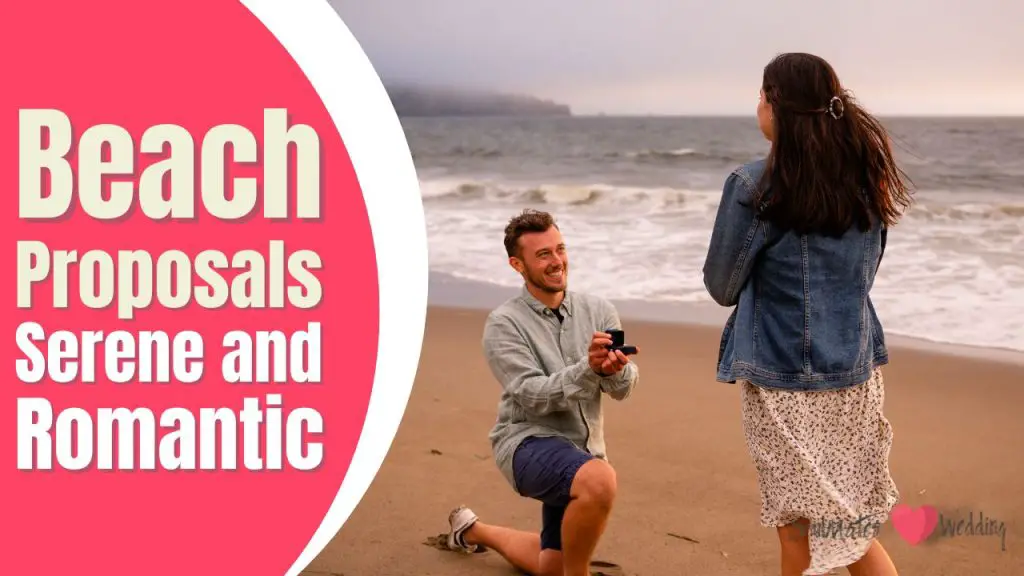 Beach Proposals: Serene and Romantic
Nothing compares to the beauty and romance of a beach proposal. Whether it's a sunrise or sunset, there is something exceptional about popping the question with sand between your toes and the sound of waves in your ears.
Before you plan your beach proposal, check out the tide times. High tide can make some areas inaccessible, so it pays to be prepared.
When you get to the beach, choose a memorable and secluded spot – it should have a beautiful view and enough privacy so that no one will disturb you. Some ideas for beach proposal spots include a deserted dune with sunset views, a peaceful cove surrounded by cliffs, or even something as simple as strolling along the shore at night.
Regarding beach proposals, it's all about setting the mood and creating a romantic atmosphere. Consider bringing props like a picnic blanket, flower petals, candles, or even your favorite bottle of bubbly to make the moment even more special.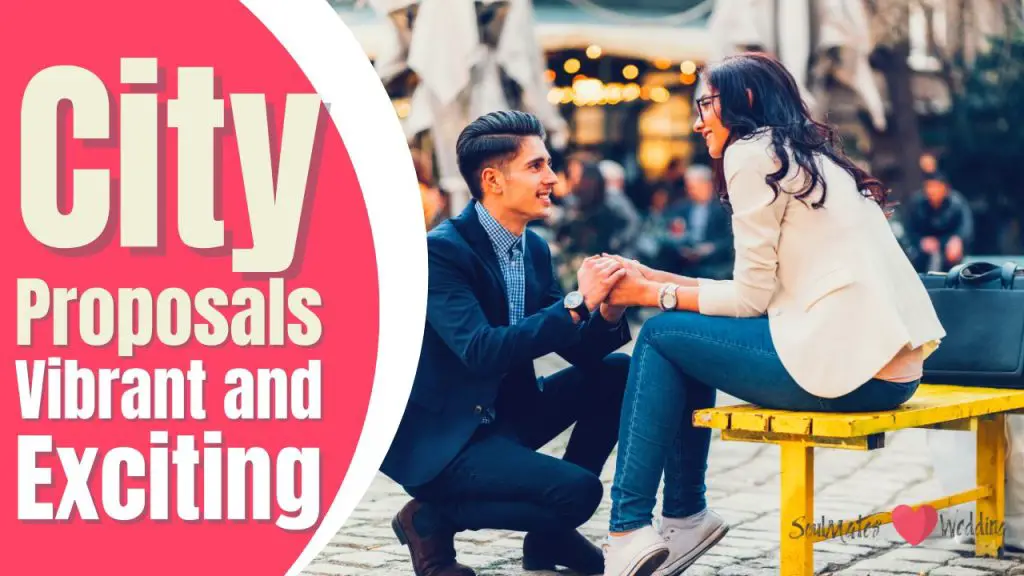 City Proposals: Vibrant and Exciting
If you prefer a buzz of activity, why not try a city proposal? Something is fascinating about proposing in the hustle and bustle, surrounded by dazzling lights and vibrant culture.
To ensure your city proposal goes off without a hitch, check out any local regulations on public displays of affection so that you can stay on the right side of the law.
Choose a spot with special meaning to you both: it could be near your favorite cafe, on the roof of your first apartment together, or even in a bustling park at night.
For a truly unique proposal experience, book a limo for you and your partner and surprise them with a drive through the city. You can even incorporate the sights of your proposal into your wedding day; if you proposed at a particular spot, why not return to it for some memorable wedding photos?
No matter where you propose in the city, ensure your partner can be fully present and aware of the moment. If there is too much noise or distraction, consider bringing a boombox and a playlist of your favorite songs to help create the perfect atmosphere.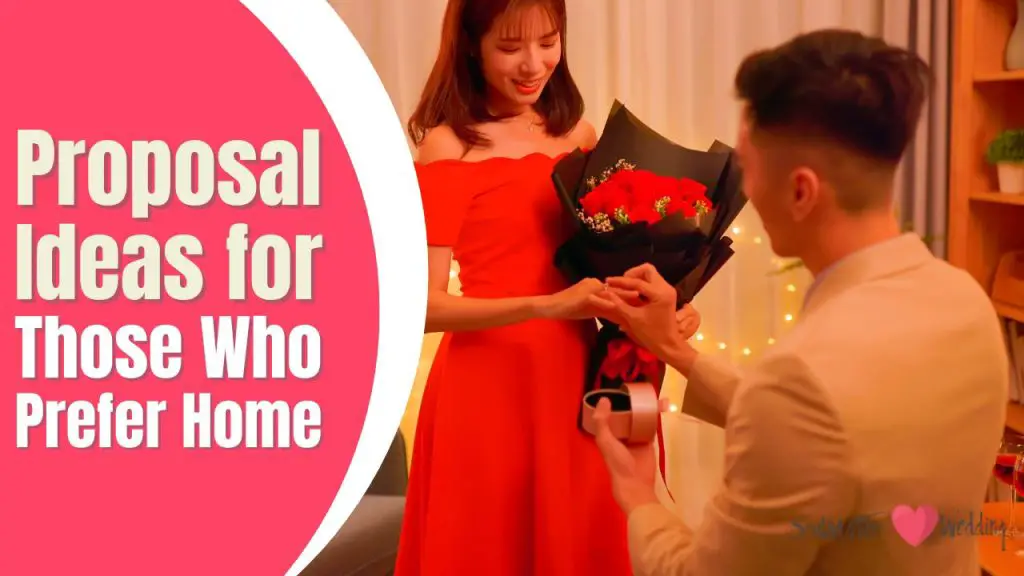 Proposal Ideas for Those Who Prefer Home
Proposing from the comfort of home is ideal for those who prefer more intimate and private affairs, and it can be just as unique as popping the question in a public space.
One way to make your home proposal extra special is by decorating with romantic elements such as candles, roses, and fairy lights. You could also transform one of your rooms into a magical wonderland – think cozy blankets, fragrant incense, and petals scattered on the floor. You could even use props like a personalized board game or an album of memories to capture the moment.
Consider hiring a professional photographer or videographer to document the day to take your proposal one step further. This way, you will have something tangible to reflect on in future years.
Nature Proposals: Beautiful and Tranquil
Nature is a great place to get engaged. Something is extraordinary about proposing in the great outdoors, whether it's a lake, mountain, forest, or waterfall.
When choosing your spot, make sure you select a location that is safe and accessible – you don't want any surprises when it comes time to pop the question!
When you have the perfect spot in mind, consider how to make it even more special. You could bring props like a picnic blanket, sparkling cider, or something meaningful to your relationship, like a bouquet of wildflowers.
Unique Proposal Locations: Unconventional yet Perfect
If you're looking for something more unconventional, plenty of unique places around the world could be perfect for your big day.
For example, what about proposing an amusement park? You could ride the Ferris wheel and pop the question when you reach the very top. Or, how about taking a hot air balloon ride and asking for your partner's hand in marriage as you soar above the clouds?
You could even try a proposal at an ice rink, aquarium, or planetarium. The possibilities are endless! Just plan so that everything goes off without a hitch.
No matter where you choose to propose, it is essential to remember that the most important thing is your partner's answer. Select a spot that resonates with both of you and creates a romantic and unforgettable atmosphere. With the right location, you will have an experience you will cherish forever!
Tips for a Perfect Proposal
When planning your proposal, there are a few essential tips to remember. First, make sure you pick a spot that is meaningful to both of you – it doesn't have to be an expensive or elaborate location, just something unique and essential to you.
Second, remember the small details! You want your partner to be taken aback and wowed by the experience, so add those personal touches that show how much you care. This could include something as simple as a hand-written love letter or something more extravagant like an engagement ring hidden in a cupcake!
Lastly, remember that this is the start of your new life together. No matter where you choose to propose, make sure to savor the moment and look forward to what comes next. With these tips, you will indeed have an unforgettable proposal experience!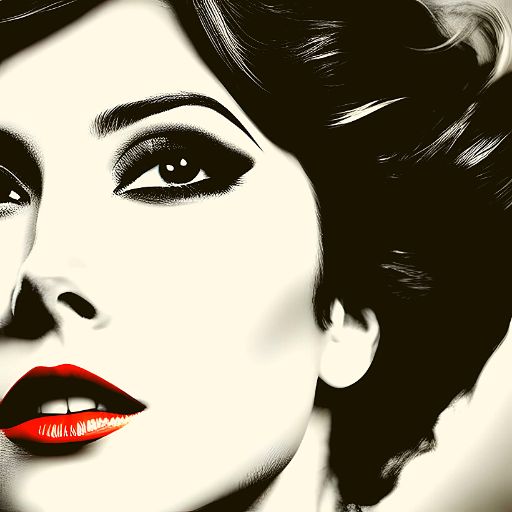 Cynthia Pate is a passionate writer and wedding enthusiast, dedicated to helping couples create their dream celebrations. With years of experience in the wedding industry, Cynthia has developed a deep understanding of the latest trends, timeless traditions, and unique ideas that make every wedding special. Her articles cover a wide range of topics, from planning and decor to etiquette and fashion, always with the goal of providing practical advice and inspiring ideas. When she's not writing about all things wedding-related, Cynthia enjoys exploring new destinations, trying out local cuisines, and spending time with her family and friends.